The following resources have been developed by or for Opportunity Youth United to support civic engagement events and initiatives.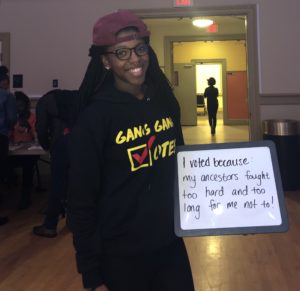 OYU VOTER REGISTRATION TRAINING HANDBOOK
By Opportunity Youth United central staff
This handbook includes detailed and easy-to-follow instructions to guide voter registration trainings and campaigns. It was first developed by Indivisible, but modified by OYUnited to be nonpartisan.
ASK THE CANDIDATES
By Alliance for Education Solutions, Opportunity Youth United
This guide contains information you can use to learn about the candidates' positions on policies and programs that directly impact youth and their families. Use it at public forums, in letters, emails and phone calls to candidates. And use it to help shape your votes by asking the question, "How will this candidate increase opportunity and decrease poverty for young people?"
YOUTH VOICE SURVEY: CHALLENGES & SOLUTIONS TO ENGAGING YOUNG VOTERS

By CIRCLE and OYU
CIRCLE and OYU staff worked with young leaders in six states—Arizona, Kentucky, Louisiana, Massachusetts, Mississippi, and Washington— to understand youth voices through a survey about their experiences with, knowledge of, and perceptions of election and voting. Our initial findings, summarized in the PDF, identify barriers that young people face in casting a ballot, and specific action steps to remedy them.
The other 2018 midterm wave: A historic 

10-point

 jump in turnout among young people
By CIRCLE
The Center for Information and Research on Civic Learning and Engagement (CIRCLE) at Tufts University conducted two large-scale national surveys of 2,087 Americans ages 18 to 24 in the fall of 2018. Among other findings, the 2018 US midterm elections saw the highest youth turnout since researchers at CIRCLE started collecting data in 1994. Their additional findings are summarized in this article.
Learn More
CIVIC ENGAGEMENT FOR LOW-INCOME YOUTH
By National Council of Young Leaders, Opportunity Youth United
In 2015, funded by the Youth Engagement Funders, the NCYL held numerous focus groups with former opportunity youth from over 20 states and developed this analysis of why young people don't vote, and what steps would be effective in inspiring them to get involved. This paper is a guide for the Community Action Teams and for CIRCLE's additional research on civic engagement for low-income youth.