Meet the Carolina Grantees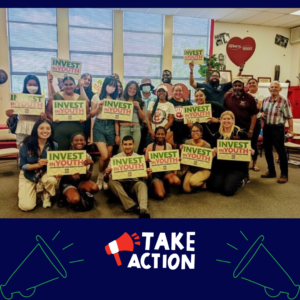 "We want to create a critical mass of young voters consistently shaping the local political and policy landscape," says Devon Patterson, Director of Community Engagement at Open Buffalo, the anchor organization for OYUnited's Buffalo Community Action Team (CAT). The Buffalo CAT is one of eight Community Action Teams selected to receive a grant this year from the Carolina Fund to expand their efforts to engage young voters ahead of the 2022 general election.
As part of their work engaging young leaders in their communities, OYUnited Community Action Teams (CATs) help young people understand their voting rights, register to vote, and show up to the polls on election day. 
In 2020, to support the CATs' civic engagement efforts, OYUnited launched the Carolina Fund: a grant for Community Action Teams to launch and scale their programs focused on youth voter mobilization. In its first cycle the Carolina Fund distributed more than $500K to mobilize young voters across the United States for the 2020 general election.
This year, the Carolina Fund is distributing an additional $150K for nonpartisan voter mobilization activities organized by OYUnited Community Action Teams. CATs applied for the grant through a rigorous application process, and eight recipients were selected in the following cities: Boston (MA), Buffalo (NY), Columbus (OH), Greenville (MI), Montgomery (AL), Pima County (AZ), and Sacramento (CA). 
Despite the uptick in national youth voter turnout in 2020 (which is still only 17 percent of eligible youth nationally), these CATs have a challenging task as they respond to low youth voter turnout in their communities. 
"Youth voter turnout in Sacramento is a huge issue because civic engagement among youth is very low and uncommon," explains Ana Taukolo, Director of Youth Programs at Alliance for Education Solutions (AES), the anchor organization that supports OYUnited's Sacramento CAT.  "Not many youth understand the power of their voice and feel as though voting makes no difference."
But the Sacramento CAT is ready to tackle that head on this year.
"We have members of the community who are trusted and understand ways to influence youth to believe that their voices matter and are needed in local and federal elections," explained Ana. They are also building partnerships with community organizations that provide direct services to youth in communities with low youth voter turnout.
Artivism to Boost Voter Engagement
In addition to more traditional voter engagement methods of relational organizing and partnerships, the Sacramento CAT is also excited to build on the work that they have been doing to integrate arts into their general youth services. They also plan to bring the arts into their voter engagement programming this year, encouraging youth to express themselves through rap, spoken word, poetry, singing, dancing, and other forms of physical art.
They are not the only CAT using creativity to engage youth voters. The Boston CAT plans to use "artivism" to educate their community on policy issues and policymakers. As part of their programming, they're inviting participants to make art in a variety of mediums — from painting to spoken word — around issues that will be on the upcoming ballot.
They hope to generate engaging posters and handouts that share information about elected officials, local statistics, and upcoming bills, and will host a series of performances for those who create performance art around the issues.
Although the CATs are confident in their young leaders, they also recognize that they are up against structural challenges, as voting rights are under attack in many states. 
"Being young does not make one less of a citizen. Being poor should not strip one of their rights to have a say in the direction of their country."  – ​​Malika Ghafour, United Way of Tucson and Southern Arizona
"Being young does not make one less of a citizen. Being poor should not strip one of their rights to have a say in the direction of their country," says ​​Malika Ghafour, the Youth Empowerment Program Manager, Cradle to Career Partnership, at the United Way of Tucson and Southern Arizona, the anchor organization for the Phoenix CAT. "Yet, for thousands of our neighbors, conditions exist which have effectively denied them access to the democratic process."
Phoenix isn't alone in recognizing these challenges. 
Mississippi lacks online voter registration, which can make the process challenging for a digital-first generation. As Jeffrey Thomas, the Greenville CAT coordinator explains, "Discounting for Jackson (population 172,039) and Gulfport (population 71,265) the population density is 26 persons per square mile. In such a context, the matter of a young person – who is part of a primarily digital generation – receiving mail and sending mail is no small feat."
Even so, the Greenville CAT is optimistic based on their results in 2020, where they saw a 67.81 percent registration rate and a 70.71 percent turnout rate among eligible voters that received peer-to-peer outreach. 
Jeffrey attributes this success to the CAT's young leaders, "When youth are seen as worthwhile, supported, and offered training and stipends for their participation, they are able to impact voter engagement."
The Buffalo Community Action Team is also gearing up for a youth centered campaign with their ambitious Freedom Summer initiative this year, paying homage to Fannie Lou Hamer and her efforts to gain voting rights for Black people in Mississippi during the early 1960s. This will be a youth-led, citywide voter engagement project that lifts up the authentic voice of young people — their fears, their hopes and their dreams. 
"We want to see our young people in Buffalo that are directly experiencing systematic challenges of inequities and injustice have the tools to identify the problems and develop the solutions," Devon explains. Through the summer, young leaders will conduct civic and voter education training, tabling/pop up BBQs, phone banking and text banking, and a social media campaign.
But their vision? It goes far beyond this election. 
"We want our new young leaders, through constant civic engagement, to turn Buffalo into a truly inclusive community where everyone has the opportunity to flourish," shared Devon.
Mobilizing Young Voters on Election Day
Beyond voter registration and education leading up to the election, CATs are also strategizing how to mobilize voters to show up on election day. For example, the Montgomery CAT is partnering with Rolling to the Polls to offer rides to the polls, while the Columbus CAT plans to leverage a pledge to vote campaign.
"Throughout the year we will conduct a digital 'pledge to vote' campaign, and will send reminders to our pledgers leading up to and on election day to encourage people to go out and vote," explained Terry Green, the Founder & Executive Director of ThinkMakeLive, the anchor organization for the Columbus CAT.
In Montgomery, they plan to canvass neighborhoods and hold voter registration drives leading up to the election, and then partner with Rolling to the Polls to offer rides to the polls. 
"The goal is to create excitement around voting and debating issues that affect young leaders while giving voice to young people in Montgomery," says Crystal Russell, Founder of Destiny Driven, the anchor organization for the Montgomery CAT. 
Ultimately, OYUnited and these CATs are ready to move the needle on youth voter turnout this year – and ensure that Opportunity Youth use their vote to make change. 
As Devon says, "The only way to create a just and democratic society where everyone enjoys the rights of freedom, love, and prosperity is to increase the level of voter participation." 
That's exactly what these eight CATs are going to do.
This is the first in our series of coverage about the work of the Carolina Grantees throughout the 2022 – sign up for our newsletter to stay tuned for more updates about the Carolina Grantees and their work!