Amanda Rene Buchanan
Milwaukee, WI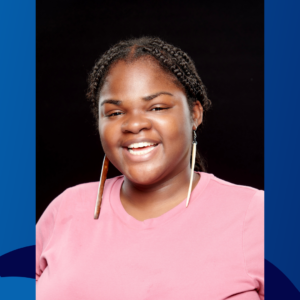 I am Amanda Rene Buchanan, and I stand for the Black Woman's liberation. I walk in the steps of ancestry history by desiring to become a Black Woman Educator. Here I stand to enhance and amplify the minds of youth through creative, fun, and reimagination of education.
As a senior university student, I am pursuing my BS in Community Engagement and Education (C.E.E.D.) at the University of Wisconsin-Milwaukee. I am learning what the education system is, what the educational policies historically and currently are, and what I want my role to be as an educator. My career journey has been fulfilling. I was in a career-enriching program called AmeriCorps' Public Allies for two years. I learned how to do my shadow work and identify the community problems in my home –Milwaukee. I served at Urban Underground/Youth Justice Milwaukee, where I fell in love with young people, learned how to facilitate social justice conversations, and was a youth advocate for incarcerated young people. My most significant learning was that young woman, especially women of color, was dispositionally funneled into the legal system. I discovered that I want to reach young ladies before they enter the system. Today, I work there as Community Resource Specialist because I want to learn about how my community is fighting for the stability and reimagination of putting community needs first.
Opportunity Youth are the underserved and overlooked community because that is the age of transition—youth to adulthood. I have been in compromising and uncertain positions, and if I had networks like this trying to change the narrative, I could have seen my worth soon. I am here now, and I want this opportunity because it helps to fight for the younger me. My why has always been to be the you that you wished you had. I wanted to have a support system and stability. OYUnited is helping to give that youth I want to be a part of the process.
Sponsoring Organization: Public Allies