Miguel Blancarte, Jr.
Chicago, IL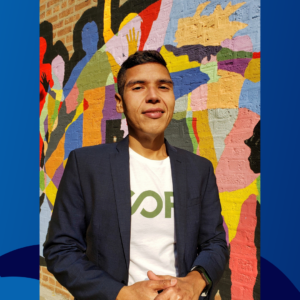 Miguel A. Blancarte, Jr. (he/him/his/él) is a community-engaged strategic leader who is passionate about health equity. As a lifelong Chicagoan, his work is dedicated to addressing the social determinants of health to improve the quality of life of people of color, and those facing economic inequalities. At his core, Miguel has four pillars that are fundamental to him: equity and justice; health and wellness; community and engagement; and, education and opportunities. Miguel advocates for disinvested communities and individuals by addressing systemic issues, inequities, inequalities, and discrimination.
In 2020, Miguel was nationally distinguished for being a COVID-19 response and community health expert responding to the COVID-19 pandemic with an equitable lens. Since then, he has participated in dialogues and panels with Dr. Alison Arwady, Congressman Chuy Garcia, and other health experts to discuss his tailored and effective response measures. As a result, Miguel was recruited to be the Director of COVID-19 Response and Community Outreach at Esperanza Health Centers, a federally qualified health center that operates five primary care clinics in Chicago's West and Southwest sides. Miguel spearheaded the charge of consolidating COVID-19 services and resources into a cohesive department while optimizing capacity and expanding services. He developed and scaled operational COVID-19 care systems, institutionalized equity-centric strategies for delivery of treatment, and led multidisciplinary teams to streamlined effectiveness. He built relationships and partnerships that increased trust, yielding growth of patient encounters and improvements to community health.
Prior to his leadership work at Esperanza, Miguel was the Regional Director of Community Engagement, Health Equity, and Partnerships at Community Organized Relief Effort (CORE), a humanitarian response organization selected to operate the community-based testing sites. He was an instrumental member of the City of Chicago COVID-19 Response leadership team providing testing and resources, fulfilling the Racial Equity Rapid Response Team's (RERRT) initiative. Miguel created an operational roadmap for equitable access to testing in the West and Southwest sides, and he crafted innovative tactics to deploy mobile testing and resource units to the most-impacted neighborhoods. He established partnerships with organizations and agencies to provide additional life-saving services to disenfranchised community members such as piloting a program with the Chicago Department of Public Health (CDPH) and a health provider to co-locate the influenza vaccine and mobile testing.
Serving on the ground, Miguel has consistently been recognized for his bridge-building leadership and contributions to addressing the social determinants of health and equity. Miguel is a passionate leader to organizations countering social and health inequities, and in 2021, three organizations that he headed were recipients of the Mayor's Medal of Honor. In 2021, he also received the New Leaders Council's Changemaker Award for his visionary leadership to combating structural racism. In 2020, Miguel was recognized by Latino Leaders Magazine and awarded the Maestro Award and the BMW Ultimate Drive Award for his keen on-the-ground commitment to connecting individuals to resources and care. He was also awarded the Class Of 2020 Award by The Alumni Society for his courageous leadership in ensuring families had the tools and resources needed to survive COVID-19.
Miguel is a first-generation American, and first-generation college student who earned his bachelor's degree from Brown University, as a Bill and Melinda Gates Millennium Scholar. He graduated top of his class from Georgetown University's McDonough School of Business and from the Walsh School of Foreign Service with a Master in International Business and Policy. Miguel is also a graduate of the Civic Leadership Academy from the Harris School of Public Policy at the University of Chicago where he focused on collaborations with leaders from across the city and county, while strengthening his executive leadership skills.
Miguel's personal commitment to youth and the social determinants of health stems from his transformation after losing 180 pounds in eight months, on his own via healthy eating and exercise. Miguel continues to inspire and lead others to transform their life through health and wellness, and you will find him running in his neighborhood five days a week.