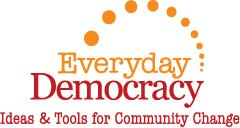 Opportunity Youth United members are invited to join Everyday Democracy for an intergenerational equity webinar on Wednesday July 25th.
The session will feature our work, as well as that of our friends at the Youth Voice Project in Boston.
What: Best practices for building intergenerational equity in your work, through the experiences of Youth Voice Project and Opportunity Youth United.
When: Wednesday, July 25 2-3:30pm ET
Presenters:
Malana Rogers-Bursen, Program Associate for Everyday Democracy
OYUAmanda Shabowich, Program Coordinator, Youth Voice Project
Shayla Fonfield, Senior Peer Leader, Youth Voice Project
Lashon Amado, National Coordinator of Community Action Teams, Opportunity Youth Unit
More on the session: What is intergenerational equity? Everyday Democracy defines it as the practice of treating everyone fairly and justly regardless of age, with special consideration to the structural factors that privilege some age groups over others. We do this by building strong relationships and partnerships, sharing power across generations, creating mentorship and cross-generational learning opportunities, and making space for youth voice.
This webinar will explore best practices for building intergenerational equity in your work. Youth Voice Project will share their experience in developing intergenerational conversations that provide a welcoming space for people across all generations to enter and tell their stories, voice their opinions, and organize together to create sustainable solutions in a concrete way. Opportunity Youth United will discuss their national work and how they organize young leaders and adult allies to work together and build power within communities. Learn more.
This webinar is free and open to the public. You must register to join.
https://oyunited.org/wp-content/uploads/2018/07/everydaydem.jpg
128
240
OYU
https://oyunited.org/wp-content/uploads/2018/02/oyu-h-1-300x104.png
OYU
2018-07-17 20:57:52
2018-07-17 21:04:03
Join OYU and Youth Voice Project for a Webinar on Intergenerational Equity: July 25