Dear OYU Members,
Happy Holidays! This month, we're full of good news.
First, we are thrilled to announce the launch of the new Phoenix and Dallas Community Action Teams. We appreciate State Farm's generous support of our Community Action Teams to continue engaging young people in Dallas and Phoenix!
Also, join us in congratulating one of our OYUnited Fellows, Simone Cawthorne, who was accepted to Boston College with a full ride scholarship.
Community Action Teams In Action
Welcome to our new Community Action Teams!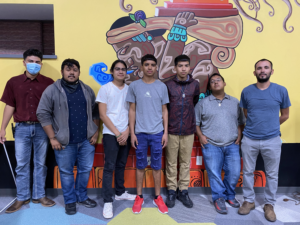 Welcome to our two new Community Action Teams in Dallas and Phoenix! We're so excited to have you as part of the OYUnited community.
Thank you to State Farm, whose generous support helps make this possible, and to the anchor organizations in each of these cities for partnering with us – the YMCA and Neighborhood Ministries in Phoenix, and Big Thought in Dallas.
Fellows Feature: Congratulations Simone!
Write your Legislators to Pass Build Back Better!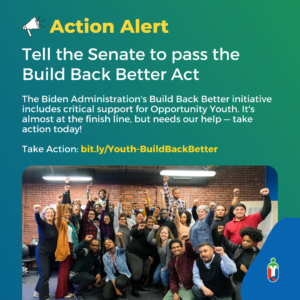 The Build Back Better Act needs our support to push the Senate to take action and get it past the finish line.
Take 2 minutes to tell your Senators to pass the Build Back Better Act — which includes critical support for young adults seeking education and employment as pathways out of poverty.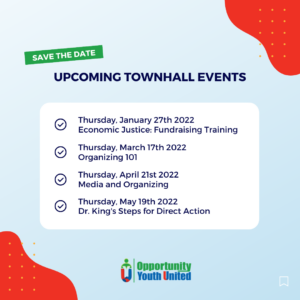 Save the date for OYU's future town hall events! We have lots of exciting events coming up in 2022, and can't wait to see you there.
Native Americans in Philanthropy (NAP) is excited to announce its grantmaking program aimed at strengthening participants' knowledge of the philanthropic sector and grantmaking processes. Youths ages 18 to 24 Apply by December 31, 2021 at 11:59pm Eastern Time! Apply here.
A partner is looking for Latinx Opportunity Youth (18+) to participate in a paid interview opportunity in January or February 2022. Reach out to

[email protected]

if you're interested to learn more!
In partnership,
Lashon Amado and the OYUnited team
Director, Opportunity Youth United