Dear OYU Members,
We are so excited about the passage of Build Back Better in the U.S. House of Representatives. This historic legislation will help build a more equitable future for all of us, and includes important support for Opportunity Youth. As part of the Reconnecting Youth Campaign, OYUnited has been active in organizing in support of Build Back Better, and we know the fight is just beginning as the legislation heads to the Senate.
We need your help. Tell your Senators that you want to see them invest in us and pass Build Back Better!
In this update, we're also excited to highlight our Boston Community Action Team's Mayoral Watch Party (check out the video!) and as always, check out the opportunities section at the end of this email for opportunities and other ways to stay involved.
Write your Legislators to Pass Build Back Better!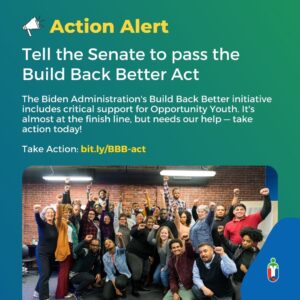 The Biden Administration's Build Back Better initiative is almost at the finish line, but needs our help to get it over the finish line. Take 2 minutes to tell your Senators to pass the Build Back Better Act — which includes critical support for young adults seeking education and employment as pathways out of poverty.
BCAT Mayoral Election Watch Party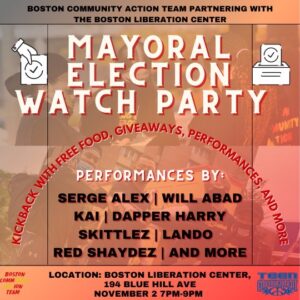 On November 2 the Boston Community Action Team (BCAT) hosted a Boston Mayoral Election Watch Party. They gathered the community together for a powerful conversation on the future of Boston as well as showcasing some of the cities top artistic talent.
Voting Rights: We Marched, and We Are Still Pushing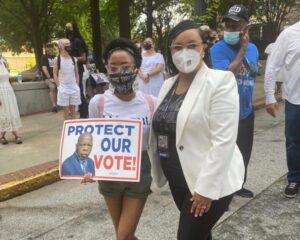 In August, OYUnited leaders Shanice Turner, Jamiel Alexander, and Kimberly Pham participated in marches for voting rights across the country. Read more about their experience and the fight for voting rights in this new post.
RESULTS Organizing and Advocacy Fellowship: Applications for the RESULTS Advocacy & Organizing Fellowship are now open for the upcoming 2021-2022 class. They are looking for the next cohort of leaders ages 20-35 to join our movement fighting poverty. Apply Now.
In partnership,
Lashon Amado and the OYUnited team