Archive for month: December, 2020
https://oyunited.org/wp-content/uploads/2020/12/Starbuck-with-a-Cadet-7.jpg
960
960
Caitlin K
https://oyunited.org/wp-content/uploads/2018/02/oyu-h-1-300x104.png
Caitlin K
2020-12-30 03:10:31
2020-12-30 03:12:40
In Phoenix, Virtual Block Parties Focus on Community-Police Dialogue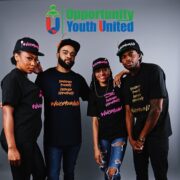 "We Voted, What Now?"
Your Voices Matters. OYUnited members mobilized, GOTV, and  [YOU]th Voted. During a pandemic and the largest estimate of "growing voters", people turning 18, compared to this past General Election, according to CIRCLE, the Center for Information and Research on Civic Learning & Engagement, is close to 15 million new voters. So what impact did our OYUnited members have? Read more
Take a look at several OYUnited members  mobilizing in their communities before and after General Elections 2020
Atlanta, Georgia
We Voted
You[th] Voted, OYUnited Leaders Shanice Turner and Daniel Rosebud have been participating in non-partisan Get Out The Vote events in Atlanta.  Shanice and Daniel are Carolina Voter Mobilization Grantees, who applied for this grant through OYUnited and are individuals working on voter mobilization in their prospective Communities since October 2019, leading up to National Voter Registration Day 2020. Click here to see highlights of National Voter Registration Day 2020 in ATL. Efforts were highlighted in a TIME article published in November 2020, titled  Civic Engagement Doesn't Have to Be Corny.' How Georgia Pulled Off Unprecedented Youth Voter Turnout" and quoted OYUnited
"It came down to grassroots organizing by groups like the New Georgia Project, Campus Vote Project, Students for 2020, and Opportunity Youth United, which made innovative social media moves and hired younger volunteers to help young voters see themselves in politics."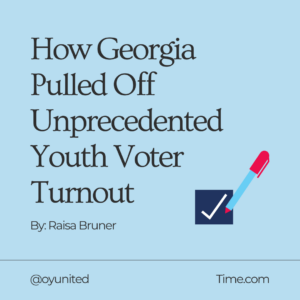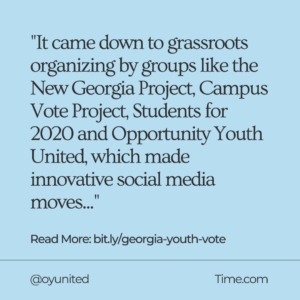 What Now
After Elections 2020
So what are our members doing in their prospective communities in a nonpartisan way? Shanice Turner and Daniel Rosebud have mastered the art of partnering within their prospective communities. Here is what is next, happening NOW!
NCYL member Shanice Turner has several nonpartisan GOTV events in ATL mobilizing in her community. From Tik Tok Challenges, Radio Podcast, Debate Watch Party, Debate debriefs, COVID 19 testing, and organizing food giveaways. Shanice strengthened in building partnerships with New Georgia Project and others are targeting young adults 18 to 35 years old. Check out this link of events going on in ATL hosted by Shanice helping to spread the word about the Georgia Senate Run-Off.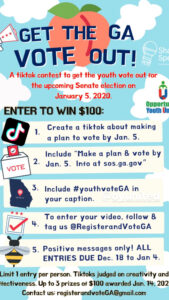 Community Leader Daniel Rosebud has put together events he calls "Activations" driven by young adults ages 18 to 35 years young. Earlier in December Daniel Rosebud on  Special Report with Areva Martin addressing viewers through a panel dialogue that is informing and inspiring viewers across the country GOTV.  A link from his segment is Here.
To keep the presence on social media, Daniel has captured a culture in an effort to GOTV in ATL using #VoiceYourVote – "Activations composed of an overarching message to mobilize in 2020 and 2021". When asked what would these efforts involve? Daniel explains GOTV is an innovative way – Leveraging nonpartisan information, a series of community engagement activities geared toward first-time voters, and two (2) panel discussions. These discussions have plans of being a viral statement and call to action leading up to a string of local elections in the State of Georgia. Discussions are moderated by the founders of Politicking a mobile application dedicated to improving and galvanizing the millennial vote by providing information about micro and macro politics.  The link to the app is www.politickingapp.com and follow the hashtag #VoiceYourVote and follow Instagram  @politicking. To follow events hosted by Community Leader Daniel in ATL follow this link.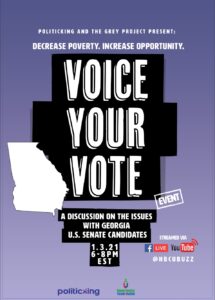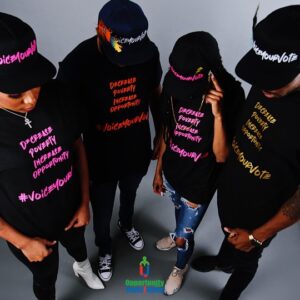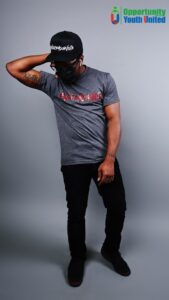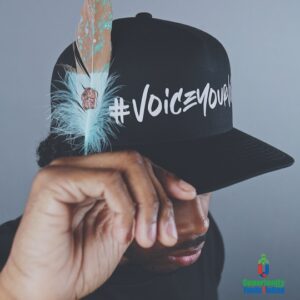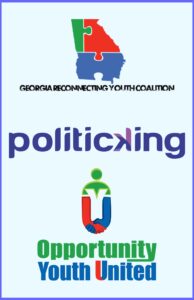 Coming Soon:
Sacramento, California

Columbus, Ohio
Sign-up for the Newsletter below.
Author, Shaquana Boykin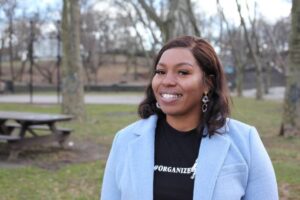 https://oyunited.org/wp-content/uploads/2020/12/IMG_7850.jpg
540
540
Shaquana Boykin
https://oyunited.org/wp-content/uploads/2018/02/oyu-h-1-300x104.png
Shaquana Boykin
2020-12-29 16:42:47
2020-12-29 17:02:27
We Voted, What Now?
About Us
Opportunity Youth United is a national movement of young people and allies working to increase opportunity and decrease poverty in America. It is supported by many sponsors, partners, and funders.
Address
Opportunity Youth United
c/o Tides Center
1014 Torney Avenue
San Francisco, CA 94129