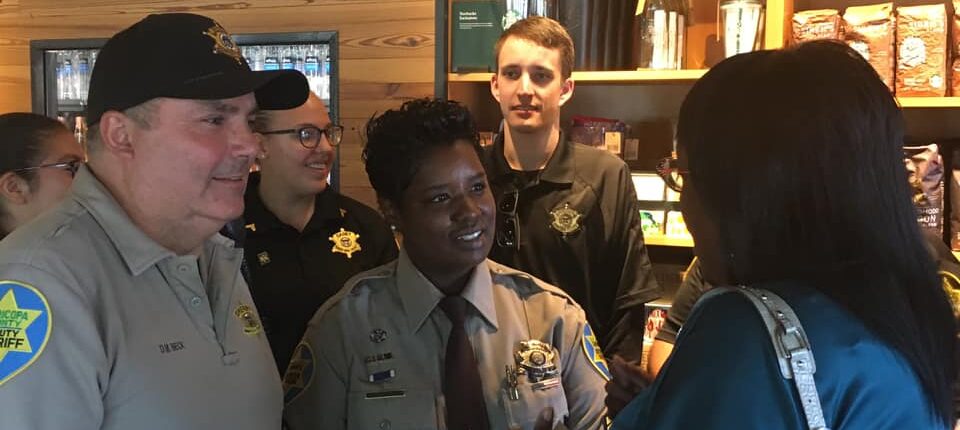 In Phoenix, Virtual Block Parties Focus on Community-Police Dialogue
By Sher Jamal Stone
At one point during a virtual youth block party in Phoenix, Arizona, a young man in a bright blue athletic shirt raised his hand, "If we're honest are you gonna be mad?"
"We aren't going to get mad if you're candid and you ask hard questions. That's how we get better. That's how I get better, that's how you get better. But we're not going to know unless you tell us, and you're honest," Sergeant Laketta Gunn-Roman of the Maricopa County Sheriff's Office, responded.
Partnerships with local organizations can be fundamental in youth development, providing young people with opportunities, access to professional resources outside of schooling, and potential paths to employment. For Opportunities for Youth, the nonprofit that anchors Opportunity Youth United's Community Action Team in Phoenix, Arizona, support from organizations such as State Farm have helped open avenues for creating and developing new partnerships across the county. One such partnership, with Maricopa County Sheriff's Office, Boys and Girls Club of the Valley, Arizona Center for Youth Resources, and Chicanos por La Causa has become something more: providing space for young people to engage in difficult discussions and community healing alongside law enforcement and trauma-informed facilitators.
Partnerships like this have often taken shape as a "Coffee With a Cop"-style event, using a cafe as neutral ground for young people and law enforcement to share tables and get to know one another as people. This year, however, presented very different challenges. 
Amid a national pandemic that disrupted daily life on a massive scale, violent police encounters against black and brown communities continued to occur. Oftentimes, these upsetting events were recorded and posted online for everyone to see and process. Felix Moran, Youth Outreach Coordinator at Opportunities for Youth and a leader with Opportunity Youth United, said that he could see how these public displays of violent policing had put young people into a state of fear and heightened awareness. It became clear to him and other leaders at Opportunities for Youth that if an event was still to be held, it would have to change its format drastically in order to better meet the young people where they were and to drive a conversation that could be authentic, honest, and, hopefully, healing.
The virtual youth block parties that emerged combined art, a DJ and music, and community-building with an open call for honest, difficult discussions between young people and law enforcement . Over two calls during August, 2020, around 30 young people from the Boys and Girls Club of the Valley joined in on virtual discussions with Sergeant Gunn-Roman of the Maricopa County Sheriff's Office. These events were facilitated and overseen by Felix Moran, Ellie Hutchinson, Genny Malachowski, Samatha Hansen, and Anne Mbugua to help guide the conversation and check in with the kids before, during, and after the event.
There were moments of levity: DJ Mr. Pachanga (aka Dominic Cota from Chicanos Por La Causa) took requests during stretch breaks—light booth and all, and opening icebreaker activities asked participants to define their "superhero" name or nickname. At the same time, there were serious precautions taken to ensure that this event wouldn't harm participants or trigger painful memories that couldn't be readily processed.
"We didn't want to go through a conversation without having a way to go through trauma," Moran says. On each call, trauma-informed social workers and organizers were available in case the conversations needed to be handled and processed in a safer, one-on-one space. This included members from Arizona Center for Youth Resources and Kaity's Way, two local organizations that focus on youth education and youth empowerment.
During one of the calls, a young woman raised her hand, "I'm going to grow up to be a black woman, and I feel like that's going to be a problem. Not a problem for me, but with the police, with everything that's happening right now. One day I might be driving and a police officer might pull me over – then what happens?"
"Let me get personal with you real quick," Sergeant Gunn-Roman said. "I've been pulled over. I work for law enforcement. I'm an African American female. When I got pulled over, it was a very stressful occasion. And then when I found out that this officer was picking and choosing who he was giving tickets to that made me feel some kind of way. He issued me a ticket. I never disclosed where I work, but when I saw him later, he told me 'If I knew you worked here I would have never given you a ticket.' How do you think that made me feel about law enforcement even though I work with law enforcement?"
"Disgusted" and "hurt" were the words that young people agreed on.
This interaction and many others like it demonstrate the power of the virtual block parties — and what can happen when young people are equipped to design and lead difficult yet critical conversations in their communities.
With necessary supports and resources, community members can lean into the discomfort and create virtual spaces for healing and discussion for young people.
Moran and his peers at Opportunities for Youth intend to continue the virtual block parties in 2021, with a focus on facilitating conversations between law enforcement and youth to improve diversity and community development within policing.
To learn more about the Opportunity Youth United Community Action Team in Phoenix, and its anchor organization, Opportunities for Youth, visit their info page on OYU and their official website.
Sher Jamal Stone is the Digital Engagement Associate at SparkAction, where he helps strategize and execute on content-driven campaigns, with a focus on equity, opportunity, and justice.