Your update on news, developments and opportunities for action from OYU
Dear OYUnited Members,
July is another busy month for the movement!
From speaking at JobFirst's upcoming Adapting to the Future of Work conference to our Reentry Action Committee authoring a new set of Recommendations, our members are hard at work organizing to increase opportunity and decrease poverty in their local communities and nationally.
Read on for what's on deck this month with OYUnited, and as always, if you have questions or suggestions, just reply to this email!
Adapting to the Future of Work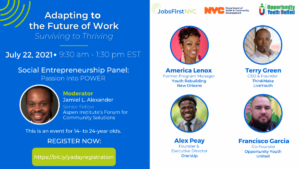 Join OYUnited for JobFirst's Adapting to the Future of Work virtual conference, focused on generating meaningful discussions and solutions to prepare young people to navigate the evolving economy.
Check out OYUnited leaders in two panels at the event: Social Justice & Social Entrepreneurship and Careers in Politics & Public Service!
Recommendations on Re-entry
Our new OYUnited Re-entry Action Committee has produced their first set of Recommendations, focused on creating successful re-entry transitions for returning citizens.
These Recommendations build on the Criminal Justice content from the Recommendations for Increasing Opportunity and Decreasing Poverty, produced by the OYUnited National Council of Young Leaders, adding the recommendations focused on re-entry developed in 2021 by this working group.
Beyond the Bar: Criminal Justice Reform Town Hall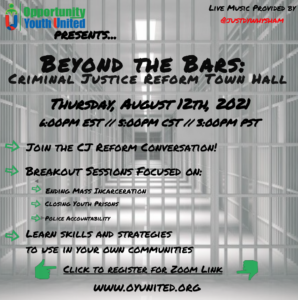 Join OYUnited on August 12th for a Criminal Justice Reform Town Hall. The conversation will focus focused on ending mass incarceration, closing youth prisons and police accountability.
This will be an engaging virtual event that will showcase the current work and initiatives that some of our Community Action Teams are involved in and will be facilitated by young people within those Community Action Teams.
#CheckforUs National Day of Action!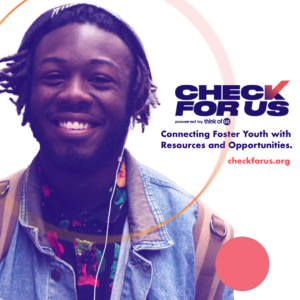 National Campaign to help states find and connect current and former foster youth to their state's Chafee distribution team and access federal pandemic relief funding.
This week, they launched their next push: A National Day of Action to dramatically increase the number of young people connecting with this funding opportunity.
Check out the toolkit and help them by sharing on social media!
Lashon Amado
Project Director of Opportunity Youth United