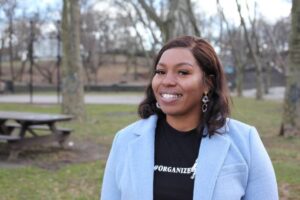 Digital Engagement Fellow
Shaquana Boykin has many years of experience working and volunteering in the nonprofit sector. A native Brooklynite, Shaquana has lived in Fort Greene Brooklyn, New York, since 2009.  She earned an Associate's Degree in Liberal Arts at CUNY's Kingsborough Community College & earned a Bachelor of Science Degree in Legal Studies at CUNY's New York City College of Technology.
At the age of 16, Shaquana began volunteering at the Brooklyn Botanic Garden and organizing with ACORN as a Canvass Field Manager. Shaquana is a certified Brooklyn Urban Gardener (BUG) and received the 2013 Natural Leader award through Children & Nature network. She graduated from the Public Allies New York & Center for Neighborhood Leadership Community Organizing Apprenticeship in June 2015. In this role, she organized around tenants' rights with the Flatbush Tenant Coalition. Together, they succeeded in establishing a new Brooklyn Housing Court building that will better serve the community.
As a Program manager of Healthy Communities Initiatives, Shaquana spearheaded an age-friendly initiative with 40+ Seniors in Fort Greene Clinton Hill, formed a Senior Advisory Council, managed a City Harvest Mobile Market of 30+ community volunteers, and served 300+ residents a month resulting in $15K fresh food to families in public housing. She also helped create the Corbin Hill Food Project CSA, which provides residents with fresh produce biweekly in the summer and monthly in winter. As an Urban Farm Educator and Manager at Northeast Brooklyn Housing Development Cooperation (NEBHDCO), Shaquana managed NYCHA gardeners at Ingersoll, Whitman & Farragut Houses.
Shaquana also served as Myrtle Avenue's Mayor's Office Engagement Coordinator for NYCHA Ingersoll houses, where she worked with more than 20 residents and more than ten agencies and community-based organizations that took part in the Mayor's Action Plan, launched in 2014. Her role was to lead residents & partners through a planning process to improve safety at Ingersoll Houses.
In addition to her work with SparkAction and OYUnited, Shaquana is currently a Food Sovereignty Organizer at Brooklyn Movement Center. She is also a Community Leader with OYUnited, an NYC Bike Share Advocate, the Chair of Programming on the Board of the Fort Greene Park Conversancy, and serves on the Public Allies Alumni Board and the Children &Nature Network Young Leaders Advisory Committee. (She doesn't get a lot of sleep!)