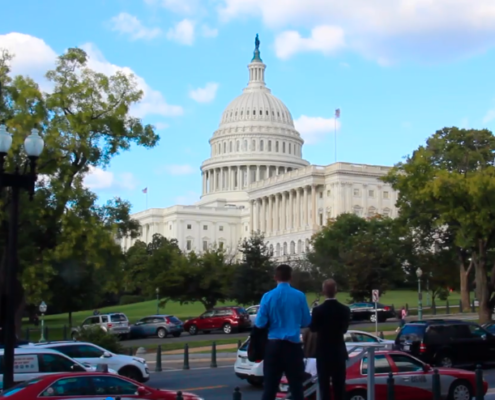 OYU Helps Launch New Campaign to Invest in Opportunity Youth
Hope in Turbulent Times: Adam Strong on a New Campaign to Reconnect Youth
I don't believe I have ever felt so hopeful in such politically turbulent times.
On September 27, I traveled to Capitol Hill for the launch of the Reconnecting Youth Campaign, a broad coalition of organizations that have come together to advocate for a solution to one of the biggest problems our country faces. There are currently 4.6 million young people ages 16 to 24 who are not in school and not working. We refer to these young people as "Opportunity Youth" for two reasons: they are seeking opportunity and they represent an untapped opportunity to employers and communities. They are individuals who want to contribute, who want a pathway to success and a strong future, but lack access to opportunity. Close to 3 million of these Opportunity Youth come from low-income families facing real systematic barriers.
At the same time, data from the Department of Labor released in June show that our nation has 6 million job vacancies. With the right supports, many Opportunity Youth could step up and fill these roles. What's more, reconnecting a young person saves American taxpayers $65,000 over the course of that person's career, and brings in an additional $105,000 in tax revenue. It really is a win-win.
Beyond the Numbers: Real Lives, Real Potential
To put it in perspective: across America, slightly more than 1 in 10 young people ages 16 to 24 are not in school and not working. Yet in many communities across the country, the numbers are much higher. In Southeastern Kentucky, where I'm from, the average is closer to 1 in 4 young people. This carries a social cost that goes beyond mere economics. A sense of hopelessness and helplessness is fueling increasing levels of crime and drug abuse in my area, and I believe it's largely due to our inability to develop and provide pathways for young people.
That's where the Reconnecting Youth Campaign: Unleashing Limitless Potential comes in. It is a federal advocacy campaign calling on Congress to invest in America's future by funding 1 million program slots for meaningful education, training, national service and employment opportunities each year for 16- to 24-year-olds.
There are numerous federally funded programs that are highly vetted, proven to work, and that provide these young people real pathways to reconnection.  These evidence-based programs include WIOA Youth Services, Job Corps, YouthBuild, Service and Conservation Corps, AmeriCorps, National Guard Challenge Program, Reentry Employment Opportunities, and many others.
Together, such federally funded programs currently have slots for about 330,000 young people distributed in communities across the U.S. This amount doesn't even come close to addressing the problem nor does it even come close to reaching some of the most vulnerable among us: youth in rural low-income communities.
In my region of Appalachia, for example, there is practically no program taken to scale for young people. And Appalachia is not alone. There are regions around this country that are isolated from any of these pathways for young people to turn their lives around and provide for their families.
I was lucky to connect with a YouthBuild AmeriCorps program. When I graduated from high school, I worked as a security guard at a coal mine. With the decline of the coal industry, I was laid off without options. Everyone was struggling to find work. A friend connected me to YouthBuild, where I built the foundation for my future.  First, I studied to be a pharmacy technician and then went on to work myself into the middle class as a Medical Laboratory Technologist. After working a few years in the field, I realized that the most important thing in my life was to ensure that other people had the same opportunity I had.  I'm now in graduate school studying public policy.
Coming Together to Urge Action
On that September Day, when I and other members of the Reconnecting Youth Campaign—some longtime advocates and others former Opportunity Youth like myself—met with Members of Congress on Capitol Hill, the question we received the most was, "How did you come together and why?" They were not used to meeting with so many individuals working across sectors on a single issue.
And it was the easiest answer: "This problem we face is bigger than any one of us."
I have heard it said that politicians follow the wind: they go here and there, changing direction as the wind does. When we come together, when we stand united behind a common goal, we become the wind, forcing action. Our solutions come from a place of respect, love and positive movement, but we are determined.  And that's why I'm filled with such hope for our future.

__________________________
Adam Strong is a founding Member of the National Council of Young Leaders and of Opportunity Youth United, a national youth-led movement to increase opportunity and decrease poverty in America. He is currently working on his Masters of Public Policy from the University of New Hampshire.