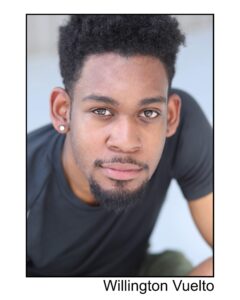 Willington Vuelto
Willingoton Vuelto is a Citizen Artist a associate program coordinator for Teen empowerment and Boston community action core team. Born in New York City, Willington Found His Voice as an Artist for Social and systematic Justice throughout the years. Gaining experience as Youth leader And Community organizer. Willington's talent has been showcased on Broadway and Off Broadway spaces such Lincoln center, The Apollo theater. The delacorte Theater in association with the public works. That national black theater of Harlem and more; Willington has utilized these the platforms to Spread awareness about Social issues in The community He serves.
In addition,Willington's unique skill set with the Passion for making a Difference has gone beyond the Stage. With Boston Community action team. Willington created the New movement Gang gang Votes as A part of a New Voter Registration campaign. Willington Serves to be The a bridge Between Culture and politics With New Ideas. Going On Tour with a Devised theater Piece around educational inequality that went On tour around the East coast and Culminated in Scotland as part of the national youth theater festival of Scotland. His voice continues to grew and developed new spaces for all ages.
I am apart of the Philadelphia Community Action Team. For four years I have addressed topics such as homelessness, mental health, and the education system through documentaries and community events. I have worked as a data manager, project organizer, event host, and editor. I strive to educate myself as well as others on social issues and advocate for reform.