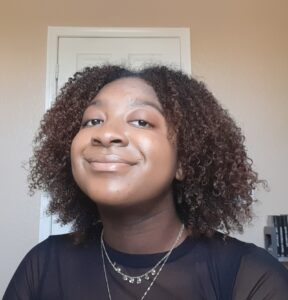 Simone Cawthorne King
Simone Cawthorne King is a student journalist and activist, who is passionate about making an impact in her community through her words and actions.
Starting as a Reporter for her school's newspaper during her freshman year of high school, she has since served in the positions of Writing Coach and Opinions Editor. While currently serving as Editor-In-Chief of the CHS Wolf Howl, she uses her writing to amplify minority voices and advocate for positive change.
Simone began her career in public service by registering voters through an outreach team hosted by Opportunities for Youth and the ASU Ed Pastor Center of Politics during the 2020 Election. While serving as a Youth Outreach Ambassador, she worked on a youth team committed to increasing voter literacy and participation for youth in the Phoenix Metropolitan area. Since then she has continued advocating for young people in her area through her work with the Opportunity Youth United and the Governor's Youth Commission, in addition to her work with the Pastor Center.